Waiting list on this litter is FULL. 
Once the pups are 10 days old the new owners will be asked to reconfirm their puppy of choice.  

If you would like to be placed on a waiting list for our next litter /end of 2021) please use this form. 
We proudly present our litter whose names will start with letter "B", in homage to their Godmother Branka, whom we wish to thank for being our true friend.
As all other litters, this one too comes from health tested and healthy parents who have a:
l2-hga test by dna – clear

hc test ok

breeding license to confirm they are up to standard dogs with all the breed qualities

temperament test, obligatory under DDA

DNA profile
Pups will head to their new homes after 8 weeks of age, some, and others at 12 weeks (depending on import regulations)
Pups will be:
– registered under Croatian kennel club, at birth and reconfirmed at 6 weeks of age
– microchipped
– vaccinated with puppy vaccines 2 or 3 times
– if necessary for travel, vaccinated against rabies
– they will hold an EU travel passport, with all vet documentation
– will be dewormed and treated for external parasites, according to the vet schedule
– each pup will have FCI pedigree (Croatian Kennel Club), photocopy of the pedigree will be available when pups are over 8 weeks old. Pedigrees are ordered once the ownership transfer is done, and the documents are sent via post service with tracking number, directly to the new owner's address.
*Additional documents, if needed, are available, at the buyer's expense.
All our dogs, including pups are fed with a biologically appropriate raw diet (meat, fish, etc) and some super premium kibble + the necessary vitamins. We spare no expense in bringing these puppies the right way.
All are raised within our house, not in an external kennel, they spend time with our family, and our pets. We also crate and house train the pups, but the success of course depends on the puppy himself.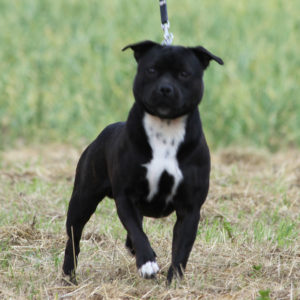 color: black brindle with white (D/D)
l2-hga test ok 

hc test ok 

breeding license and temperament test 

DNA profile 
George is a dog with the most loveable nature, whom we had chance to spend much time with as he was a part of our show team. 
color: blue brindle with white (d/d)
l2-hga test ok 

hc test ok 

breeding license and temperament test 

DNA profile 
Moka is our softest dog, we tend to say she's like a Velcro, always stuck by our side.